"It's a beautiful record!  And a brilliant idea.
Load up the woody with surf boards and head for the waves!  This record makes me want to be a Beach Boy!"

Stewart Copeland

 
27 April 2023
Los Angeles, California.
Hey Friends! Hopefully those of you who pre-ordered California have received it! Almost immediately after letting you know it was delayed--BOOM! There it was! If you have not received it, please let us know! 
Also, now the individual DIGITAL tracks from California are now available to purchase and download from our MUSIC page. 
Deborah, Wendy and I are all here at Wendy's house and studio in Woodland Hills, CA having shot a bunch of videos for the songs this week! 
CALIFORNIA is still available for PRE-SALES! With physical finally being shipped to us, we are continuing  to accept new orders. Our release day (for Spotify, Apple Music, etc) is May 19, 2023. 
The Refugees came together in 2022 to record their favorite songs from the 1960s and 1970s quintessential California-sound bands. Who better than Deborah, Wendy, and Cid to recreate the exquisite harmonies of Crosby, Stills, and Nash, The Byrds, The Mamas and the Papas, The Beach Boys, Flying Burrito Brothers, and more? Produced by Wendy Waldman and Abraham Parker (with Deborah and Cid chiming in), CALIFORNIA was recorded at the new Longhouse Studio, appropriately in Woodland Hills, CA. We will only be pressing a limited amount, so order signed your copy now. 
Go to our STORE page and order your signed copy now! Or purchase individual tracks on our MUSIC page.
Meanwhile, I (Cid) spent all of January in Los Angeles to join Deborah at Wendy's home in Woodland Hills rehearsing for our three performances at the end of the month. It was awesome to play with each other after so long! We feel like we are getting better than ever! Then we headed on to Kansas City to participate at the International Folk Alliance Conference--which was a blast! Then on February 3, we had a wonderful intimate show at the Lawrence (KS) Arts Center. (Thanks to our friends Mark and Jane in Lawrence for putting up with us for a week.) 
We are very excited to be back together recording and performing after our hiatus. We are all still very busy with our own individual careers and lives. Deborah collaborated with her old Animal Logic bandmates Stewart Copeland and Stanley Clarke, releasing two brand awesome new tracks (written by Deborah) just recently. The two new tracks, "Can You Tell Me" and "Ordinary," capture the quintessential, timeless Animal Logic approach.Wendy will be releasing her new solo album "Caretakers" in March 2023 (it's exquisite). And me, well my memoir TransElectric: My Life as a Cosmic Rock Star (with foreword by Sir Elton John) will be released by Chicago Review Press on June 6, 2023 (advanced sales now on amazon.com and other major online book stores).  
Of course, we all have family lives--Wendy and I with extremely smart and vibrant grandchildren (Wendy 2, me 4) and Deborah is kept busy with the goings on of her two sons. Of course, Wendy's brilliant son Abe has A LOT to do with our new album. He co-produced and played multiple instruments. We are very grateful for his energy and massive talents. 
We all wish you the happiest of Holidays and may we all have peace, joy and abundance in the coming year.
Much love,
Cid, Deborah, and Wendy
The Refugees
19 September 2022
Hello Friends!
Well, we did it! After a long hiatus, The Refugees recorded a brand new full album due for release on January 23, 2023.
We got together at Wendy's (new inhouse) Longhouse Studio in Woodland Hills, California and spent the last two weeks of April and into early May learning and recording all the songs for the album. Deb and Wendy did a lot of incredible pre-production together without me (Cid) a couple months earlier. This album (which we are keeping under wraps right now) is a vocal master work and labor of love. Not to mention the fine musicianship of Wendy's virtuoso son Abraham Parker on multiple instruments, drummer Scott Babcock, bassist Carl Sealove, and a notable guest or two to be revealed later.
We have all been super busy with our own projects. I finished my memoir TransElectric: My Life as a Cosmic Rock Star for Chicago Review Press and will be receiving the first advanced copies within the next month. I am honored and humbled by the fact that Sir Elton John wrote the forward to my book. It will be available for pre-sale by the end of the year on Amazon. The "hard" release date is June 1, 2023.
Wendy's plate has been full, producing a number of albums in the last year or so including The Herculeons, featuring the great John Cowan and Andrea Zonn. Wendy's own new album is also coming soon.
Deborah has been busy writing and recording new songs of her own, plus she recently got together with her old bandmates Stewart Copeland and Stanley Clarke. We are all very excited about the upcoming release of two new Animal Logic songs!
The Refugees will be playing a number live dates in late January 2023 in California and booking more beyond that. We'll keep you posted as we go.
Thank you to all our fans for hanging with us for all this time! We are very excited about being back!
Much love to you from,
Cid, Wendy and Deborah
_______________________________________________________________________________________________
31 March 2021
Nashville, TN
WHERE does the time go? It seems the Refugees go into hibernation for months (even years) at a time, and then realize--OH! We love each other and where are we and what can we do together?
Each of us living in  different parts of North America doesn't help either. Deborah is firmly ensconced in British Columbia, Canada even though the kids are grown and she is through being a college music professor. Wendy moved from her home in Northridge, CA several months ago to the wilds of Woodland Hills where she is building yet another fine recording studio--Longhouse 3. Me? My wife Tanya and I have moved cross-country twice in the last 2 1/2 years. Maine (my home) to Santa Fe (her home) to Nashville (our middle ground) last May.
Wendy continues her classical music studies along with writing and recording new songs. She has a new album coming out this year. wendywaldman.com Deborah also continues to write and record, releasing a gorgeous EP last year. deborahholland.net I also recorded and released a brand new album in 2020 "Walkin' Through This World"--loosely themed around my transition from Cindy to Cidny. cidnybullens.com
Of course we released our most recent music in 2019-our "How Far It Goes" EP.  We are hoping to put out a video of the song "No Easy Way Back" for this year's Earth Day April 2021.
And...we are plotting again. Pending this wretched pandemic--we are hoping to go into the studio in the fall of 2021 to record a new album and then another one in 2022. Honestly, we just miss each other too much! One of us will randomly hear one of our previous songs and contact the others, then starts a conversation. Then a commitment.
As we grow older, we realize that life is definitely getting shorter!
We love our fans! You continue to hold us up even when we are hiding out doing our own things. Hold on, we're coming!
Wishing you all health and we pray you have been safe during this unprecedented time in history.
Much love,
Cid, Deb and Wendy
______________________________________________________________________________________________________________
Dec 5, 2019
Cidny Bullens here.

We released our first set of new songs in five years! Our EP,  will be available on iTunes, and other digital sources, and there will be a very limited amount of physical CDs. The video is now on Youtube https://www.youtube.com/watch?v=cxR1y_zx9no  Plus here is a link of our LIVE mini-concert we performed last night on Facebook. https://youtu.be/5H5WSsGx3gY.  We have been strategizing other event and recording ideas for 2018 and we are very excited about what it is come for The Refugees. 
We all have a ton of individual things going on--Wendy is in college taking advanced composition classes and producing, recording, and soon to be releasing  her own new album (www.wendywaldman.com). Deborah is heading up and teaching a professional music and songwriting course at a college in Vancouver, BC. She still has a teenage son to parent, while she has a new solo album herself in production and is working on an AMINAL LOGIC EP, with Stewart Copeland and Stanley Clarke. We are all very excited about that!  (www.deborahholland.net).I JUST finished my first album of new songs as "Cidny" in Nashville, to be released either late in 2020. I have been performing my one-person show about my life-- Somewhere Between: Not An Ordinary Life (cidnybullenssomewherebetween.com) all over the country, with a break to record, but hope to resume early next year with a tour in Australia. 
As some of you know, we got together several times at Wendy's house/studio in Northridge, CA, where we wrote and recorded five new songs.  We think they are some of our best work ever!  We are really excited! We are now comtemplating that instead of releasing only the recorded songs as an EP as we had always planned, we want to write more songs and release a whole new album. It's tough to all get together--living on two coasts and in two countries. Still----we think we have more to do. We absolutely love playing, writing, and being with each other. And as we all know now more than ever--the world needs all artists to express themselves now more than ever. Good music is a good thing! So...

Over the last five years, much has changed for each of us personally and individually. (Yes, as most of you know and can now see in the pictures and the live video--I transitioned from Cindy to Cidny).  But what hasn't changed is our love for each other and our desire to make great music together.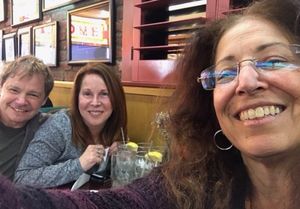 So stay tuned! We will keep you posted!We wish you peace, love, and joy as always!
With all that is going on in the world these days--we all need as much of those things as we can get!

With love and much gratitude to our friends, fans and supporters,

Cid, Deborah, and Wendy
https://www.facebook.com/therefugeesmusic/
http://waldmanbullensholland.com