"

"The Refugees have a spirit and light that captures your attention right from the downbeat until they've left the building. These are not just 3 very talented artists, they are great entertainers." " - Sleepy John Sandidge, KPIG Radio
"

"The Refugees offer up a terrific combination of engaging, passionate, and poetic songwriting, high-caliber musicianship, and gorgeous vocals. The combined musical pedigree of Cidny Bullens, Deborah Holland, and Wendy Waldman is unparalleled. Don't even think about missing an opportunity to catch them in concert."" - Anil Prasad from Innerviews, Guitar Player and Bass Player
"

"It's a beautiful record! And a brilliant idea. Load up the woody with surfboards and head for the waves! This record makes me want to be a Beach Boy!" " - Stewart Copeland re The Refugees 2023 album "California"
The trio of artists that is The Refugees emerged on the music scene as a verifiably unmatched force of talent, diversity, and experience. Each successful in their own right as a solo artist, Cidny Bullens, Deborah Holland and Wendy Waldman formed their unique and innovative group in 2007 and since that time have been wowing audiences, radio DJs, and music critics alike with their soaring harmonies, indelible musicianship, and unforgettably humorous stage presence.

Individually, The Refugees have logged almost five decades in the industry, with more than twenty solo albums and multiple Grammy Award nominations to their credit, featuring musical styles that blend country, rock, folk, blues and Americana. To describe them as eclectic would be an understatement. These three artists have utilized their intense drive and relentless passions to create an entirely new sound.

UNBOUND, their debut release on Wabuho Records was released in January of 2009 and garnered many awards. The album received rave reviews and is still a favorite on folk and Americana radio. The talented trio plays guitars, dobro, bass, mandolin, harmonica, accordion, and percussion, and features a mix of innovative new co-writes and fresh arrangements of a selection of their previously recorded radio favorites, including "Save the Best for Last," and "Fishin' in the Dark."

Their second CD, THREE, was released in January 2012 on Wabuho Records (Burnside Distribution) and in April in Europe (Blue Rose Records). Three features the trademark Refugees sound but with the addition of drums (Scott Babcock) and special featured performances on fiddle by the world-renowned Sam Bush. Since its release Three has garnered rave reviews and charted in the Top 10 on Roots Music Report for many months.

HOW FAR IT GOES, 2018, is 6-Song EP came about during a touring hiatus. The trio got together in Los Angeles a few times to write, and this was the result. It's a mix of genres recorded with a rhythm section and for the first-time keyboards are included. In a mix of genres and storylines, these songs reflect their wide musical range and talent. 
There newest album, CALIFORNIA, ten cover songs of iconic, harmony-focused California bands of the 60s and 70s was released on May 19th, 2023. One of the strongest components of The Refugees are their 3-part vocals. Cidny had suggested The Refugees record an album of some of the bands that featured 3-part harmonies and were a big influence on all three members. The band combed through many songs and finally narrowed it down to this list. These recordings are a tribute to, and, The Refugees own unique take on, classic recordings by The Beach Boys ("Good Vibrations," "Sail On Sailor"), The Mamas and the Papas ("Monday Monday," "Dedicated to the One I Love"), Crosby, Stills, and Nash ("You Don't Have To Cry," "Carry On,"), The Bryds ("So You Want To Be a Rock and Roll Star") Sly and the Family Stone ("Stand"), The Flying Burrito Brothers ("Sin City") and Buffalo Springfield ("For What It's Worth"). Of course, The Refugees put their own unique stamp on each track, making California not only a celebration of what was, but a revelation of the power these songs still hold today. 
Press photos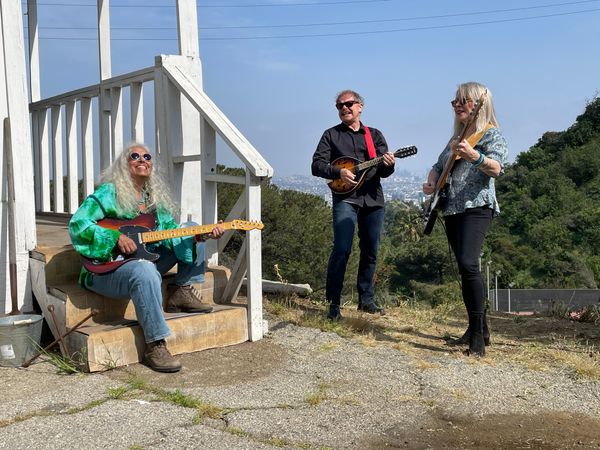 Music
0:00/4:08

0:00/2:39

0:00/4:15

0:00/4:31

0:00/2:06